Mile builder | From Spitsbergen to Harlingen
16 September 2022 16:00
up to and including
30 September 2022 17:00
Mile builder voyage from Spitsbergen to the Netherlands. Join us on this epic crossing from the northernmost village Longyearbyen all the way to the historically important city Harlingen.
Bringing the Reade Swan home!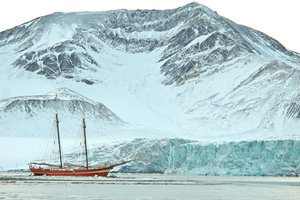 A voyage from Spitsbergen to Harlingen gives you a lifelong memory. You will literally be following the routes of the great explorers of the past. Starting in a vast wilderness slowly making your way towards civilization. And if you are lucky, you will even experience some Aurora Borealis along the way!
Day 1: Embarkation in Longyearbyen
You will arrive at the small airport of Longyearbyen, located about 15 minutes drive from the centre of the small town.
Our sailing ship Reade Swan // Noorderlicht will be waiting for you at the so-called 'floating pier' where you can embark from 16:00. After a welcome from the captain, the mooring lines will be cast off and the ship sets course south bound.
Day 2-13:Sailing
During these 2 weeks you will be learning how to sail the beautiful Reade Swan // Noorderlicht. You will be part of our watch system and together with our highly skilled crew you will bring the Reade Swan home.
As you can imagine this trip is highly dependant on the weather. If the wind is in our favor we go in a straight line south. If not, we take a route along the norwegian coast and through the fjords. So in both situations it will be a voyage that you will remember for the rest of your life!
If we arrive early we will make a stop at Terschelling, a UNESCO world heritage site.
Day 14: Goodbye Reade Swan // Noorderlicht
Unfortunately, our adventure through the Arctic landscape of Spitsbergen and over the Northen seas has come to an end. After arriving in Harlingen, you are kindly requested to disembark by 17:00. You will have your berth until 30-9 17:00, also if we get to Harlingen ahead of schedule. After that we really have to wave goodbye and the Reade Swan will undergo some maintenance to get her ready for an ocean crossing!